Download the Spring/Summer 2014
of Cadalyst Magazine
A $12 value, yours free!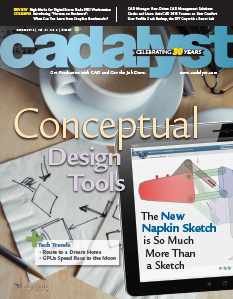 The Spring 2014 issue of Cadalyst Magazine is packed with CAD news, trends, and information as well as technology updates and tips to help you get your job done. Download your free copy today!
In this issue:
Cover Story
Cadalyst Labs Report: Conceptual Design Software Tools
Whether it's a bridge or a ball joint, every design must be roughed out before designers can tackle the details — but a growing number of digital options is making that process a little smoother. -by Sanjeev Pal

Features & Reviews
Tech Trends: AEC -- Route to a Dream Home
Designer's imagination pushes EnRoute sign-making software beyond its typical applications.

Tech Trends: MCAD -- GPU Acceleration Helps Ready
Rover for Race to the Moon
Astrobotic Technology, a competitor for Google's Lunar XPRIZE, upgrades its NVIDIA GPUs to speed design and simulation tasks in SolidWorks, ANSYS, and iray.

Cadalyst Labs Review
First Look: Digital Storm Slade PRO Workstation
Attention to detail is evident in the design and construction of this high-end system. -by Art Liddle

Columns
Herrera on Hardware: How Fast Is It? Assess Your Graphics Hardware
Introducing a new monthly column by CAD hardware expert Alex Herrera. His debut installment clarifies the role of benchmark tests in the effort to evaluate workstations. -by Alex Herrera

CAD Manager: Peer-Driven CAD Management Solutions
If you're the go-to CAD guru in your office, you may become the CAD manager by default. How do you make the best of it? -by Robert Green

Circles and Lines: AutoCAD 2015 Focuses on User Comfort
The updated workhorse CAD program features a passel of UI updates that will make your day-to-day work easier and more efficient. -by Lynn Allen

User Profile: DIY Guy
Do you want to play with the cool toys? Zach Burhop demonstrates how you can build them yourself. -by Cyrena Respini-Irwin

Plus ...
Editor's Window
CAD Central
CAD Cartoon
and Hot Tip Harry!


Download your free copy today!