Free Download!


Trying to decide between perpetual licensing and software subscription? Use our list to be sure you cover all your bases. From the editors of Cadalyst.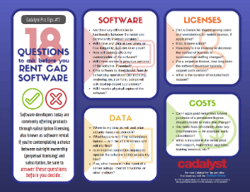 The software landscape is changing rapidly: More and more vendors are offering their products via subscription plans, in which you rent the software instead of buying it.
Download this one-page tip sheet from the editors of Cadalyst
to learn what to ask when making your next CAD software licensing decision.
---
Also recommended for you:
Straight Talk About Autodesk Subscription
Before you make your next software licensing decision, understand the facts behind the changes and your options going forward. Developed by Cadalyst editors and sponsored by Autodesk.
CAD Software: The Benefits of Ownership
Subscription CAD applications aren't the best option for every business. Learn the benefits of software ownership vs. rental and how to determine if ownership is right for you. Developed by Cadalyst editors and sponsored by IMSI/Design.