Download Your Copy Today!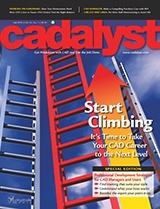 Every issue of Cadalyst magazine provides insights and information you need to optimize your CAD implementations and select the best software and hardware for your company.

In this issue:
SPECIAL EDITION: PROFESSIONAL DEVELOPMENT
Take Control of Your Future as a Design/Engineering Professional
The author provides an overview of this Cadalyst special edition and discusses why it's so important to continue sharpening your skills throughout your career.
Make the Most of Your Career
To excel at your job, you'll need to do much more than simply show up for work every day. Learn about the various factors that affect success in the workplace and make a plan for your future.
Explore the World of Training Options
CAD and related software tools are more sophisticated and varied than ever — but fortunately, so are the resources available to help you master them.
Level Up: Become a Power User
All users need a workplace guru they can rely on. With these ten simple tips — and some dedicated effort — you can become that person. Earn the gratitude of your peers and the respect of your managers.
Columns
Herrera on Hardware by Alex Herrera
More CPU Cores or Faster CPU Clocks?
CAD Manager by Robert Green
To Get the Tools You Need, Learn the Right Way to Ask Management
Circles and Lines by Lynn Allen
AutoCAD 2016 Introduces Smarter Dimensioning Tools