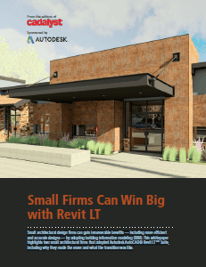 Building information modeling (BIM) is within
reach of even the smallest AEC firms today.
Small architectural design firms can gain innumerable benefits — including more efficient and accurate designs, increased competitiveness, and higher revenue — by adopting BIM. This whitepaper highlights two small architectural firms that adopted Autodesk AutoCAD® Revit LT™ Suite, including why they made the move and what the transition was like.
Don't be left behind in the AEC industry's rapid advancement into the world of BIM. Learn from two experienced firms how — and why — your small firm should adopt BIM today.
Produced by Cadalyst and sponsored by Autodesk.
Download the free whitepaper now!