Please click here to start your download!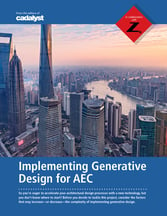 Help Guide Cadalyst Coverage!
Cadalyst wants your help to guide our editorial coverage and to focus our communication with you on the topics that are of most interest to you and your CAD working environment. Providing some insights on the form to the right will help, but it is not required! Just click on the link above to view, print and/or download your paper.
Thanks!
The Cadalyst Team
More White Papers!
To download additional reports, white papers, and buyers' guides, visit the Cadalyst Library today.