Don't buy if you can get it for free!
The editors of Cadalyst, with help from our contributing editors and readers who are in the CAD trenches day in and day out, have updated everyone's favorite guide to helpful tools and resources that don't cost a cent. Download our guide and you'll soon be asking yourself, "How did I live without this?"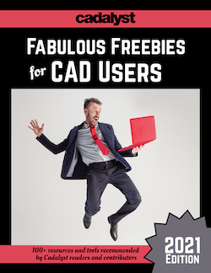 The latest edition of the "Fabulous Freebies for CAD Users" guide has something for everyone, including:
Unit converters
File and text utilities
PDF converters
Imaging tools
AutoCAD tools and AutoLISP code
Mobile apps
BIM tools
Tools for CAD managers
Sketching and visualization tools
AND MORE!
The tools are free, and so is our guide; download your copy today and see how valuable free can be!


Produced by Cadalyst. © Longitude Media.