Engineers Benefit from Devices That Are Custom-Designed for CAD Work

You don't have to settle for a general-purpose mouse that's slowing you down. There are other options — and they're affordable and easy to learn, too.
You've likely mastered the ins and outs of your software and the workstation that runs it, meaning you're already getting the most performance possible out of your particular setup. To raise your game, you would have to upgrade one of your tools. However, beefing up your computer or switching to a different CAD software package requires a serious investment of money, training time, or both.
But your software and workstation aren't the only places where upgrades can have a substantial impact on your productivity. Sometimes little things can make a big difference too.
From the SpaceMouse 3D mice to the CadMouse, 3Dconnexion input devices provide a way for CAD users to upgrade their performance — without changing their software, buying new workstations, or spending lots of time on training.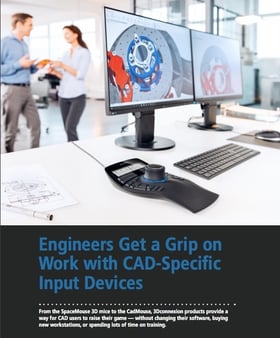 Produced by Cadalyst and sponsored by 3Dconnexion.
© Longitude Media, 2017

Download this free white paper today!