Download the Free White Paper!
Straight Talk About
Autodesk Subscription
Before you make your next software licensing decision, understand the facts behind the changes
and your options going forward.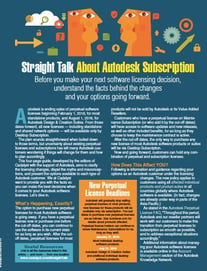 Autodesk is phasing out perpetual software licenses. Going forward, Autodesk customers who wish to purchase or upgrade software must select a subscription (rental) licensing plan.
Bypass the myths and misunderstandings surrounding this change and go straight to the truth in this free, four-page downloadable guide from the editors of Cadalyst.
Download this paper now to learn
What's happening exactly?
How do licensing changes affect YOU?
What are your options?
Where can you find the additional resources you need to navigate these changes and make the right decision for your company?
Written and produced by the editors of Cadalyst.
Sponsored by