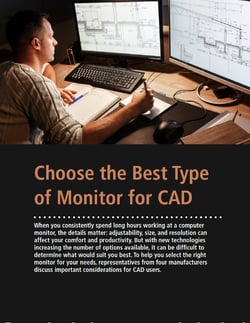 When you consistently spend long hours working at a computer monitor, the details matter. Size, resolution, and other factors can boost — or hamper — your productivity. But with new technologies increasing the number of options available, it can be difficult to determine what would suit you best. To help you select the right monitor for your needs, representatives from four manufacturers shared important considerations for CAD users.
Download this free Cadalyst guide for a range of perspectives from industry experts at BenQ, Lenovo, NEC Display, and ViewSonic. Get advice about form factors, response time, resolution, connectivity, and more that can help you make better choices — whether you're selecting monitors for yourself or for an entire department of CAD users.
Produced by Cadalyst. © 2020 Longitude Media.