Better Results Begins With Better Deliverables
As a design professional in the world of civil infrastructure, you're required to fully convey understanding of your project and design intent to many people in several ways. At the same time, the industry and its project delivery methods are advancing, increasing the demands required to meet contract requirements.

You need a solution that allows you to produce a range of deliverables, effortlessly, from one model in one application.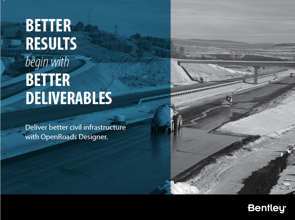 Better change management leads to:
Better understanding
Better quality
Better stakeholder buy-in
Better results
Discover how you could be designing and delivering better civil infrastructure, download your copy today!
Sponsored by: