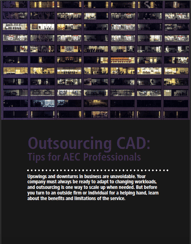 Upswings and downturns in business are unavoidable. Your company must always be ready to adapt to changing workloads, and outsourcing is one way to scale up when needed. But before you turn to an outside firm or individual for a helping hand with your CAD work, learn about the benefits and limitations of outsourcing.
This six-page white paper provides background on considerations including:
Types of tasks appropriate for outsourcing — and those you should avoid
Permanent and short-term options
Important steps for a smooth working relationship between your company and the outsourcing provider.
Download your copy of this free white paper to start exploring your outsourcing options!


Produced by Cadalyst. © Longitude Media