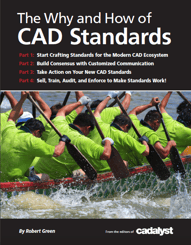 It's time to raise your standards!
The CAD environment has changed, making CAD standards a much more complex —
and perplexing — challenge than in the past. It's time to rebuild your standards to reflect this new reality.
This 15-page guide features the practical advice and easy-to-follow action checklists that CAD management expert Robert Green is known for. His entire four-part series of CAD Manager columns on standards is compiled here, including:
Start Crafting Standards for the Modern CAD Ecosystem
Build Consensus with Customized Communication
Take Action on Your New CAD Standards
Sell, Train, Audit, and Enforce to Make Standards Work!
To help everyone in your company work efficiently together, you simply must have good standards. Download this free guide and get started today!
Produced by Cadalyst. © 2018 Longitude Media.