Professional CAD Workstation
vs. Gaming PC
Tested head-to-head

, which option performs better for the money?

Download your complimentary white paper from the editors of Cadalyst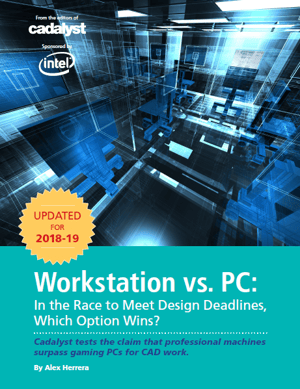 You hear manufacturers' claims that professional workstations perform better than consumer or gaming PCs when it comes to supporting demanding design work -- but is it really true?

Led by hardware expert Alex Herrera, Cadalyst put that question to the test, running CAD-related benchmark tests to evaluate the performance of a $2,200 professional CAD workstation against a $2,100 PC outfitted for gaming.

See the results -- based on actual benchmark results -- and decide for yourself which option makes sense to support your workload.

And does it pay off to update your computer every few years? Herrera compared benchmark results of a new workstation to those of a three-year-old model to see if frequent updates actually pay off.

See the benchmark results for yourself. Download the complimentary white paper today!

From the editors of





Sponsored by