A Cadalyst primer on mobile workstation considerations for design and engineering professionals.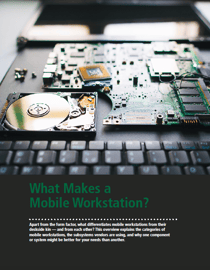 Apart from the form factor, what differentiates mobile workstations for designers and engineers from their stationary cousins — and from each other? This overview explains the categories of mobile CAD workstations, the subsystems vendors are using, and why one type of component might be better for your needs than another.
Learn about how performance is categorized, why particular components are used, and which configuration elements to avoid.
Download this white paper today!