This six-page guide from the editors of Cadalyst lays out
spec-by-spec information and advice

to help you select the best wide-format printer to support your design and engineering workflow.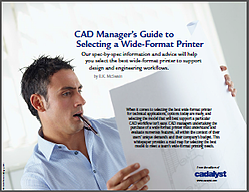 Despite all the advances in digitizing the design workflow, many projects and workflows today still rely heavily on printed deliverables. Once priced beyond reach of all but the largest companies, wide-format printers today are not only much more affordable than their predecessors, they are also much easier and more cost-effective to operate and maintain. This is leading many firms to purchase or lease wide-format printers for in-house use.
When it comes to selecting the best wide-format printer for technical applications, options today are many, and selecting the model that will best support a particular CAD workflow isn't easy. CAD managers undertaking the purchase of a wide-format printer must understand and evaluate numerous features, all within the context of their users' unique demands and their company's budget.
A free, six-page whitepaper from the editors of Cadalyst provides a road map for selecting the best model to meet a team's wide-format printing needs. Learn which questions to ask in your quest to select the optimal model as well as how to evaluate wide-format printer features, including
Size (physical specs and media width)
Print quality and speed
Media capabilities
Platforms and drivers
Connectivity
Memory and storage
Software control
Purchase price and maintenance costs
Warranty and technical support
In addition to spec-by-spec advice, the guide also includes a list of the wide-format printer companies that offer models for technical applications as well as links to a variety of additional resources to help you make an informed decision.
Download our whitepaper today!