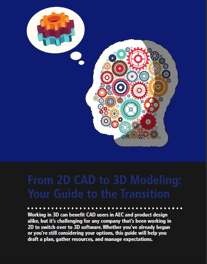 Working in 3D can benefit CAD users in AEC and in manufacturing, but it's challenging for any company that's been working in 2D to switch over to 3D software. Whether you've already begun or you're still considering your options, this guide by CAD management guru and industry expert Robert Green will help you draft a plan, gather resources, and manage expectations.

This eight-page white paper provides advice about:
Deciding whether 3D makes sense for your company
Choosing a trial project
Selecting your test team
Training users to become productive with the new software
and more!
Download your copy of this free white paper today!


Produced by Cadalyst. © Longitude Media, LLC