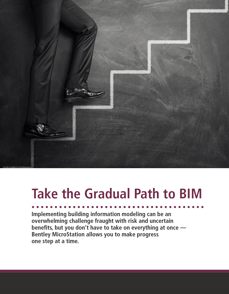 AEC firms are always under pressure to innovate and improve their workflows, so they can deliver the best possible designs and increase the long-term return of assets to their owners. Sometimes it seems, however, that the path to high returns is a steep one.
Implementing building information modeling (BIM) can be an overwhelming challenge fraught with risk and uncertain benefits, but you don't have to take on everything at once — Bentley MicroStation allows design and construction firms to make progress one step at a time.
To learn how small, incremental advances leveraging your existing investments in CAD and related technologies can yield big benefits over time — for both your company and the project owner — download your copy of this free white paper today.
Sponsored by: