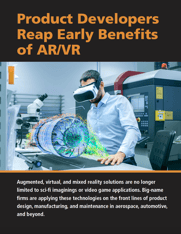 Augmented, virtual, and mixed reality (AR, VR, and MR) solutions are no longer limited to sci-fi imaginings or video game applications. Big-name firms are applying these technologies on the front lines of product design, manufacturing, and maintenance in aerospace, automotive, and beyond.
This white paper, written by design industry veteran Randall Newton, explains the basic differences between the technologies and showcases notable examples of companies using them today.

Download this free white paper to get a glimpse of where your company may be heading, and how workflows could change as a result!
Produced by Cadalyst. © Longitude Media.