The Evolving Mobile Workstation
It comes down to physics — a deskside can always outperform a mobile workstation. Cadalyst hardware expert, Alex Herrera, looks under the hood of both to break down the pros and cons of each form factor.
For the bulk of CAD professionals, a mobile workstation makes the ideal complementary computing device. For some, it can suffice as the one and only workstation.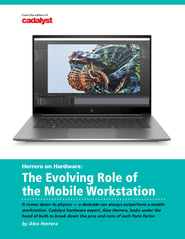 Download this paper to learn more!