Real-Time Rendering for Designers: What's It Take?
No longer the future of design visualization and virtual reality, photorealistic real-time rendering is now within reach of designers in all disciplines at companies of any size.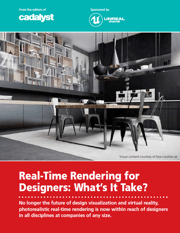 Imagine developing a new design, and not only viewing it in full photorealism, but being able to easily adjust colors, textures, lighting and more — and seeing the outcome instantly. That's the magic and promise of real-time rendering technology.
Except real-time rendering isn't magic and it's no longer a promise: It's here now and well within reach of architecture, engineering, and product development companies of any size.
What's it take for design professionals to get started with real-time rendering? Download the 10-page white paper, developed by the editors of Cadalyst and sponsored by Epic Games, developers of Unreal Engine. This white paper will:
help you better understand the technology, in particular Unreal Engine and Unreal Studio;
discuss the realities of adopting Unreal Engine in terms of the learning curve and required time and financial investment; and
present the payoffs for those who make the move.
Download your copy now!
Sponsored by