White Paper: A Closer Look at State-of-the-Art
Workstation Technology
If you're thinking about specifying a standard PC to support design and engineering workflows, think again. Not all computing components are created equal — especially when it comes to powering demanding software.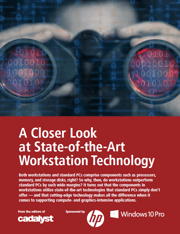 Both workstations and standard PCs comprise components such as processors,
memory, and storage disks, right? So why, then, do workstations outperform
standard PCs by such wide margins?
In this new, eight-page white paper from the editors of Cadalyst, CAD management expert Robert Green explains how the components in workstations utilize state-of-the-art technologies that standard PCs simply don't offer — and that cutting-edge technology makes all the difference when it comes to supporting compute- and graphics-intensive applications.
Download the white paper today!
Produced by