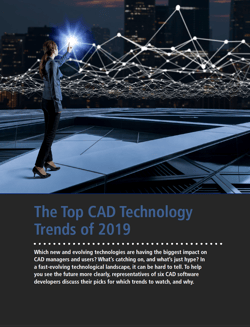 Which new and evolving technologies are having the biggest impact on CAD managers and users? What's catching on, and what's just hype? In a fast-evolving technological landscape, it can be hard to tell.
The digital design world is never static. New software and hardware capabilities, workflows, and technological developments are continually entering the scene, in AEC firms and product development companies alike. Distinguishing between the truly impactful developments and the merely novel ones can help you make wiser decisions about investing your resources and preparing for changes.
Download this free guide to read insights and predictions from eight CAD software companies about how CAD and related technologies are changing.
Produced by Cadalyst. © 2019 Longitude Media.