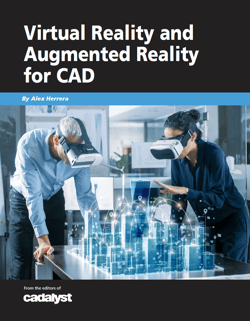 Virtual reality (VR) — exploiting immersive computer-generated visuals to fool our senses into thinking we are experiencing something we're really not — has always had tremendous potential. For decades, the concept has conjured numerous compelling applications that promised to change the way we live and work.

VR — and its sister solution, augmented reality (AR) — have struggled to live up to that potential, however. They've been held back by challenges that had nothing to do with the concept and everything to do with the limitations of past implementations. But how is all that changing today?
Download this free white paper from Cadalyst to read insights and predictions from industry expert Alex Herrera about where VR/AR technology is heading — and how it might help you.
Produced by Cadalyst. © 2020 Longitude Media.