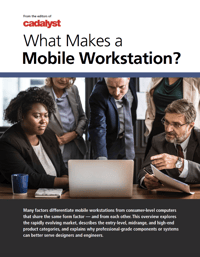 Cadalyst has asked the question, "What makes a mobile workstation?" before, but in today's fast-moving market, the answers are changing.
Many factors differentiate mobile workstations from consumer-level computers that share the same form factor — and from each other. This overview explores the rapidly evolving market, describes the three primary product tiers,
and explains why professional-grade components or systems can better serve designers and engineers.
Download this guide from Cadalyst to learn about new technologies affecting the market, which factors differentiate mobile workstations from standard laptops, and what to expect from entry-level, midrange, and high-end models.
Produced by Cadalyst. © Longitude Media.