White Paper: How Workstations Can Benefit the Bottom Line
Examine the ROI of workstations designed for professional computing applications, compared with that of standard PCs, and you'll find that the workstation makes better financial sense.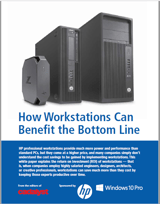 Professional workstations provide much more power and performance than standard PCs, but they come at a higher price, and many companies simply don't understand the cost savings to be gained by implementing workstations.
This white paper explains the return on investment (ROI) of HP workstations — that is, when companies employ highly salaried engineers, designers, architects, or creative professionals, workstations can save much more than they cost by keeping those experts productive over time.
Download the white paper today!
Produced by


Sponsored by