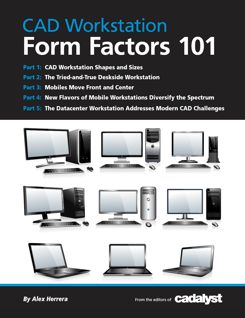 With so many types of workstation models on the market today — and new arrivals appearing all the time — the options for CAD professionals have become much more diverse. While the proliferation of mobile, mini, remote, and even luggable form factors creates more flexibility, it also can create confusion. What are the distinguishing characteristics, unique capabilities, and best uses of each form factor? Which makes the most sense for your use case?
Download this 30-page guide from Cadalyst to learn all about the various workstation form factors available and how they're used, from the desk to the datacenter.
This guide compiles workstation expert Alex Herrera's entire five-part form factor series into one convenient resource. It's packed with clear, detailed explanations and illustrations that can inform your workstation selection process. Get yours today!
Produced by Cadalyst. © Longitude Media.